If you're in pain after an auto accident, it's important to seek treatment as soon as possible. Even mild auto accidents can cause traumatic injuries, but these injuries aren't always obvious, and they can get worse over time without proper treatment. At Sunnyside Wellness & Chiropractic Center, we know how time-sensitive auto accident injuries can be, and we're committed to helping you heal as quickly as possible. Our all-natural approach to healing is designed to minimize risks and target the actual source of your aches, pains, and mobility problems after an auto accident.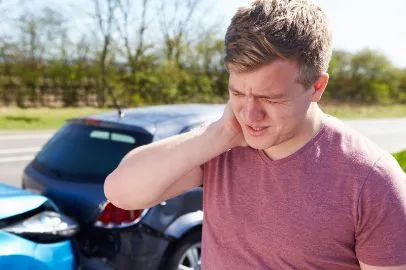 Natural Pain Relief for Auto Accident Injuries in Fresno
Instead of relieving individual symptoms, our Fresno chiropractic team examines your whole body to find the root causes of your trauma. For example, bruising or pain near your neck may indicate hidden trauma to your spine, while sore joints may indicate torn tendons that need help to repair themselves. Our goal is to promote healing, relieve pain, and correct misalignment and other irregularities after auto accidents.
Diagnosing Auto Accident Injuries in Fresno
Inflammation and tension are common sources of pain after auto accident injuries, but they both make it harder for the body to heal, which prolongs your pain and reduces your muscle function. Our goal is to stop this cycle and kick-start your body's natural healing processes. Restricted or inflamed tissue cannot regenerate as quickly as healthy tissue, and misaligned spines cannot support proper movement while you heal. Because our Fresno chiropractor wants you to avoid long-term complications, he will start with a comprehensive chiropractic exam to evaluate the nature of your injuries. Then, he'll customize a treatment plan that is designed to correct damage and promote healing.
Whiplash Treatment in Fresno
Did you experience a sudden jolt to your head and neck during an auto accident? Rear-end collisions often cause whiplash, a spinal trauma that occurs because of abrupt back-and-forth movements of the neck and head. Common whiplash symptoms include headaches and tingling, weakness, numbness, stiffness, or pain in the neck. Our chiropractor starts with therapies to reduce swelling, which may be followed by manual manipulations to correct misalignment and restore range of motion in your neck.
Back & Neck Pain Relief from Your Fresno Chiropractor
Neck and back pain are common symptoms after auto accidents because the spine is sensitive to sudden force, which may cause misalignment or trauma to your tissue or nerves. Our chiropractic treatment plans depend on the severity and location of your particular back or neck pain. Whether you have a dull lower back ache or excruciating neck pain, our Fresno chiropractor will target the source of your spinal trauma, which may be sprains, strains, slipped discs, or any other auto accident injury. Your treatment plan may include corrective exercises, chiropractic manipulations, and manual adjustments to restore the proper balance of your spine.
Are you looking for Fresno chiropractors who treat auto accident injuries? Dr. Thomas Potigian is ready to take on your pain. Call make an appointment today!