Visit Our Fresno Chiropractor For Natural Healing From a Work Injury
According to the Bureau of Labor Statistics, private employers reported 2.9 million nonfatal workplace injuries in 2016. At Sunnyside Wellness and Chiropractic Center, our Clovis and Fresno chiropractor, Dr. Thomas Potigian, is committed to helping as many people he can recover from and avoid work injury of all kinds.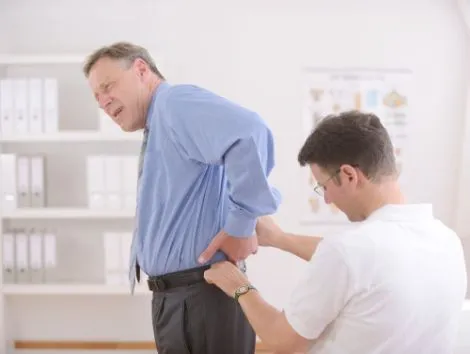 Common Types of Work Injury
A work injury can afflict office workers, construction workers, first responders, and everyone in between. Here are a few of the most common work injury issues we see among our patients:
Carpal tunnel syndrome: median nerve compression in the wrist, causing numbness and tingling in the first few fingers
Tech neck: temporary neck pain and stiffness caused by a forward head and slouched posture over a smartphone or computer (may increase your risk for other conditions such as degenerative disc disease)
Muscle strains and ligament sprains: soft tissue inflammation and damage
Sciatica: sciatic nerve compression in the lumbar spine, leading to numbness, tingling, and pain in the buttocks and leg (usually on just one side of the body)
Plantar fasciitis: inflammation to the arch of your foot, causing sharp heel pain
Symptoms may come and go. They may get worse after a long day of work, or after prolonged sitting or standing. No two cases are the exact same—which is why our treatment plans are always individualized.
Why Does Work Injury Occur?
Work injury risk factors include both direct and indirect issues. Direct issues include your workplace environment and whether it's set up for efficiency and safety (ergonomics), how long you spend sitting or standing, your posture, your technique while lifting, whether you perform frequent or repetitive lifting, bending, twisting, or overhead movement, and if you sustain an on-the-clock accident like a car crash or slip and fall.
Indirect causes of work injury include psychological stress, how well you sleep, whether you smoke, and whether you maintain a healthy diet and active lifestyle.
How Our Chiropractor in Fresno Treats Work Injury
As a chiropractor in Fresno, Dr. Potigian can offer you several services to heal your work injury and keep it from coming back:
Adjustments, spinal decompression, and postural screens all serve to realign your spine, restoring an ideal environment for your nervous system functioning, relieve pain, and eliminate recurring stress
Corrective exercises improve core strength, flexibility, endurance, and rate of tissue healing
Nutritional and lifestyle guidance helps you optimize your health for better performance and function both inside and outside the office
Missing Work Because of a Work Injury Accident Injury? Contact Our Fresno Chiropractor Today for Help
Call to schedule a FREE initial consultation with our top-rated Fresno chiropractor!